Vocation-A call to religious life...

There is little doubt that religious orders in the United States have been in transition over the last 40+ years. They have examined every aspect of their lives: their prayer, work, dress, daily horarium, relationships with one another, the church and society.
In looking at Religious Life today, two challenges must be borne in mind: the concept of vocation and the importance of charism. Vocation-the mystery of call and response-implies that we are here for a reason, for a meaning, not completely of our own making.Our purpose, our reason for being here at this time and in this place, in this body with this identity, is bound to a call beyond us, a call from the ultimate mystery of mysteries, our God.
And what is meant by charism? Religious orders are groups of men or women who have come together because of the inspiration of a person (their founder or foundress) who had a gift for understanding the Gospel of Jesus in a specific way and responding to a particular need within the church or society. Some describe charism as "energy," in that charism is the energy that inspires and gives life to a particular order. Our identity is found in our charism. The charism of an order does not change. What changes is our response that is shaped by the needs of today's world.How does one know if she is being called to be a Daughter of Mary and Joseph?
If you want to learn more about vocation, charism or about being a member of the Daughters of Mary and Joseph, please contact us.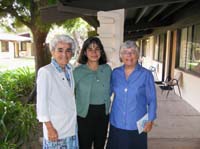 Vocation Director
Daughters of Mary and Joseph
5300 Crest Road
Rancho Palos Verdes, CA 90275-5004
A bit of news from DMJ Novitiate...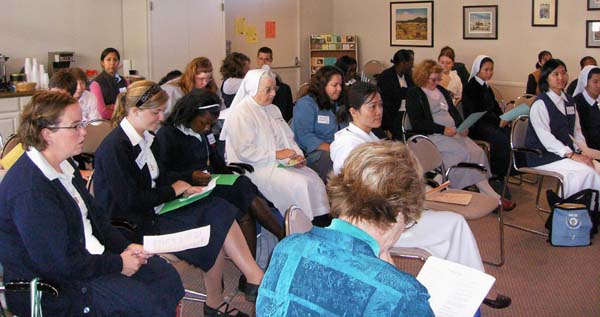 One of our favorite activities this year has been the Intercongregational Novitiate program (ICN for short). Each week we meet for classes with candidates and novices from many other congregations in the greater Los Angeles area.
The ICN year begins and ends with a lovely time of retreat. Weekly classes are related to such topics as: Spirituality / prayer, Religious Vows, Apostolic Life, Self-integration, Community and Scripture. The varied lectures are well-qualified and engaging.
In February the members of each Congregation give charism reports. In these we come to appreciate the many gifts these Religious Orders offer to the Church.
Best of all is the camaraderie that is built up among the group. In the fall we are strangers to one another. But as the year goes on we experience a fun-loving, supportive peer group that inspires and enlivens us.