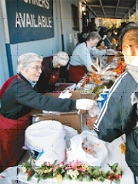 The Daughters of Mary and Joseph first began ministering in California in 1926 at the invitation of Bishop John J. Cantwell. Initially our focus was on teaching elementary and high school students in the then rapidly-expanding Catholic school system.
In more recent years, we have engaged in additional ministries that address the current needs of the day.
Though our ministries are varied, we have two very special concerns about our world today.
First of all, a universal spiritual thirst is evident everywhere. In whatever ways we serve, we endeavor to help people make a connection with the God who also thirsts for them. Secondly, we are aware that our world is full of displaced, excluded and marginalized persons. And, yet, our God is a God of gracious hospitality.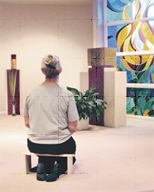 We believe that today, more than ever, God calls us to be women of welcome, embrace, and hospitality.
In addition to sisters working in the field of education at various levels, we also sponsor the Mary and Joseph Retreat Center in Rancho Palos Verdes. Our sisters are doing pastoral ministry and RCIA in parish settings, as well as engaging in a myriad of other ministries such as spiritual direction, food pantry, counseling, 12 step recovery, massage therapy, and administration.
Throughout our religious lives, each one of us desires to be an instrument in the hand of God, more and more attuned to Christ in whom we come to know compassion and mercy.