DMJ Associates
Constant W. van Crombrugghe's spirituality and charism of mercy can find expression in various ways of life. DMJ Associates are women and men from all walks of life who feel called to share the spirit of the Daughters of Mary and Joseph.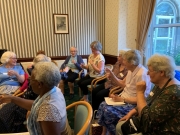 Aims of Associates
To be an instrument of God's mercy and compassion, whilst continuing to live their everyday life in their own environment.
To grow through prayer and reflection in a deeper understanding of God's infinite love and mercy.
To deepen the relationship between Sisters and Associates.
Associates Mission Statement
We, the members of the DMJ family, are called to be a people of vision, compassion and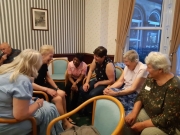 service, full of joy in giving ourselves, led by the Spirit in total trust , so that we may be channels of light, love and life to all people.
For further information contact:
dmjenglishregion@gmail.com